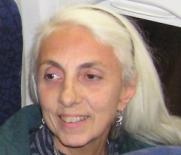 Lin Sisto

Board Member


Born in Brooklyn in 1945, Lin Sisto became a board member shortly after joining the church in 2002. Lin comes from a background in church ministry, with two maternal uncles being preachers, one of which starting up a new Church of the Nazarene in Connecticut. Her father resotred famous paintings in NYC.
Leaving her childhood home of Long Island, Lin attended SUNY New Paltz to become an art teacher, but also minored in music. Music was always a passion of Lin's, who sings and plays guitar & accordian. Lin currently pursues the passion by singing on the Church's worship team.
A favorite verse of hers is Ephesians 5:2, where it is written, "Walk in love as did our Lord Jesus Christ who gave himself for us as a fragrant offering". Lin's license plate is inspired by this verse, reading "WOKINLUV". She likes when people are curious about, as it provides a perfect opportunity to testify.
Other hobbies of Lin include poetry and watching wildlife, especially birds.